Radio Caroline 1964 >
Following Audio Tracks – Radio Caroline around the south coast & Xmas – (Courtesy Kathy Jeanette)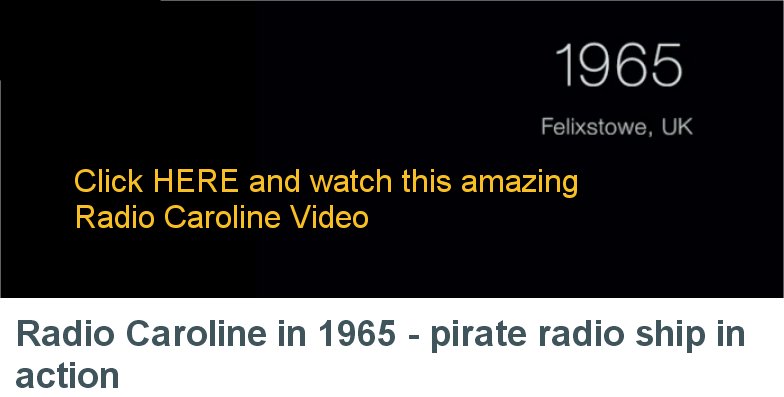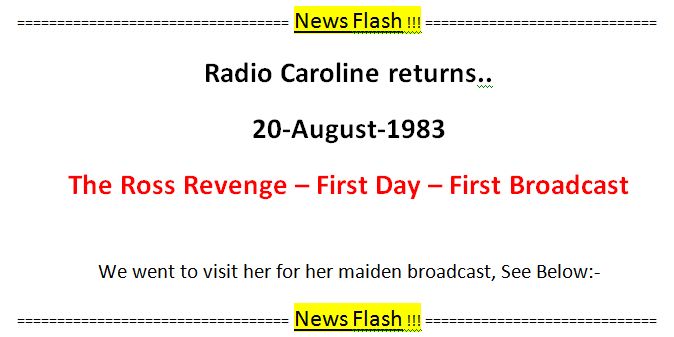 After the Radio Caroline ship Mi Amigo sank 20-Mar-1980, Ronan O'Rahlly invested in a former North Sea trawler the "Ross Revenge" and had it re-fitted in Spain for broadcast purposes including a very impressive 300ft antenna mast. The Ross Revenge soon dropped anchor just off the English coast at knock deep and was ready to begin broadcasting again as Radio Caroline.
On 20-August-1983 and knowing the sensitivities of the crew and staff we took a chance to board her just before the first broadcast began, as we approached the ship we called her on the fish phone but to no avail, eventually the tender skipper John Burch pulled alongside, Andy Archer recognised us and let us climb aboard, we were then given a tour of the whole ship.
When the first broadcast began from the Ross Revenge,Andy Archer thanked us on air for the champagne delivery and read out the names of the milkman!!!!! Roger Taylor, John Birch, Keith King, Chris Harris, John Payne, Paul Southgate, Ian Tomasi, Jolly Orange … tbd……
A lot of photo's have now emerged from this trip and will be added in due course.
Check out the massive array of guy wires required to hold up that spectacular 300 ft mast!