Radio Jackie – Nick Catford
Years of involvement 1969-1970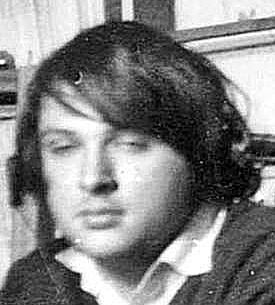 Home Location: Sutton, Surrey – DJ Mike Knight
Types of involvement: Engineering reports from London & Technical advice
Comment / History:-
  Nick was introduced to Radio Kaleidoscope through Buster in 1969 as somebody who was about to start a new radio station. Nick also provided signal reports during Radio Kaleidoscope broadcasts from Essex.Nick went on to successfully start up and run Radio Jackie along with his father a former DFC Lancaster rear gunner Jack Catford.See also  http://radio.eric.tripod.com/radio_jackie.htm

Nicks own words

Radio Jackie made its first test broadcast from my house on Wednesday 19th March 1969 on 194 metres during the evening. The planning for the station started the previous summer when I attended a rally in Trafalgar Square organised by the Free Radio Association. There is a short film of the event on youtube https://www.youtube.com/watch?v=kKG_8xgFvpA

On the day of the rally a pirate station called Radio Free London was on the air in London broadcasting to the people attending the rally. I went to the rally with a school mate Roger Allen. We heard Radio Free London and thought it would be a good idea to set up our own pirate station. To do that we needed staff/djs, a studio and most important a transmitter. I quickly recruited another school friend, Chris Low. My mum was in the local butcher one day and mentioned our plans to one of the people working in the shop, Norman Thompson. Norman was keen to get involved and he knew of two more people who would join the new station, David Squires and Doug Russell. We had our crew. I became Mike Knight, Roger used a number of names including Duncan Caesar and Dirk Swift, Chris Low became Martin Fox, Doug Russell became Tony Simms and Norman became Eddie Lloyd. Not sure about David Squires because he left us before Jackie actually got on the air. I am not sure if that is his real name or the name he was planning to use. It was going to be many months before we got a studio together and got hold of our first transmitter. Here is a picture of all of us together in my loft in 1968. It wasn't actually a studio at this time. Just a couple of microphones, a couple of radios, a telephone and some records. To us it was progress. Radio Jackie was on its way. We see from left to right Chris Low, Doug Russell, David Squires, Roger Allen and Norman Thompson. I am of course behind the camera. Click on picture to enlarge

Two more pictures from that gathering in my loft in 1968. Two of our prospective DJs in front of a microphone for the first time. On the left is Roger Allen and on the right Doug Russell. Having got our staff the next thing we needed to do was get a transmitter – easier said than done. None of us had any technical knowledge so we weren't able to build our own. I knew of government surplus shops that sold all manner of old transmitters. Doug drove us up to a surplus warehouse at Codicote in Hertfordshire were we spent £15 on some kind of VHF transmitter. Even if we could have got it working it would have been useless as we wanted to broadcast on medium wave. I think we were clutching at straws when we bought if – a total waste of money. Another pirate at that time was called Radio Apollo. They gave out an address so I wrote to them and asked if they could build a transmitter for us. I got a phone call from Roger Scott who ran Apollo and we went over to see him in Ewell. He said he would be happy to build a transmitter for us. He gave us a list of components which he said could all be obtained from component shops in Edgware Road and Lisle Street in London. A couple of us went up on the tube and bought all the parts with the exception of the crystal which determines the broadcast frequency. We wanted to broadcast on 197 metres (1525 kHz) but were unable to get a crystal. Eventually a 194 crystal was found at Southern Surplus in Kingston. It was close to the wavelength we wanted so we decided it would do for the time being. The parts were delivered to Roger together with a stripped down radio chassis to build it on. The first Radio Jackie medium wave transmitter was ready for collection a week later and within days we made our first test transmission on 194. David Squires had left by then but we were soon joined by Ian Temple (Mike Hayes) and Howard Smith (Ian West) who joined us from Radio Helen North. I can't remember if Ian came along before our first test or very soon afterwards..
Radio Jackie – Home brew 50 Watt MW Transmitter – 1973 (Courtesy Nick Catford)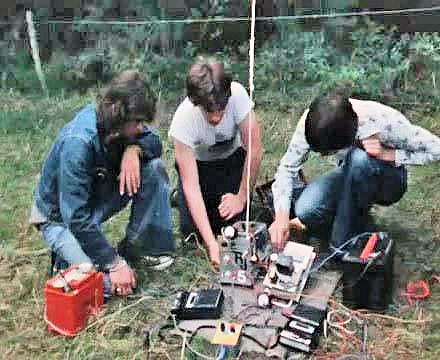 CLICK Here and listen to Radio Caroline, Sunshine Radio and Radio Jackie – 1980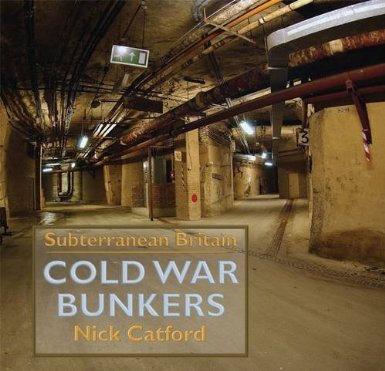 Our understanding is that Nick moved onto another fascinating project involving subterranean tours of our most secret bunkers and facilities.