DJ – Roland (Buster) Pearson "Andy Bowman"
Audio:
Years of involvement:  1967 – 1972
Alias:  Buster
Home Location: South Benfleet, Essex
Types of involvement:  Broadcast Monitor, Recording Studio, DJ, Meeting place with tea & Cakes
Comment / History:
  During one of our earliest telephone request shows (1967) broadcast from a location in South Benfleet, Essex, a well-spoken lady telephoned in asking us to play a dedication for Buster and his Auntie Cynthia. This request was followed by a string of similar requests throughout the day from the same household, which culminated in an invitation to tea and cakes at a well-kept 1930s-style bungalow located at 31 Avondale Road, South Benfleet.  Buster who was housebound had been brought up by his professional mother and Auntie, they both had lots to talk about and kept us entertained for hours making us feel very welcome indeed.

Buster always blamed the J.O. for getting him involved with Pirate Radio, but in reality Buster thrived on all his new-found contacts and friends – his whole world just opened up.

Buster soon became a major focal point and link to all the pirate stations both on-shore and off-shore. His meticulous program logs soon provided the starting point for his own radio magazine "Monitor". Pam Bird helped Buster produce the very first edition and chose the name "MONITOR" for the new magazine.

In later years Buster would often listen to our FM 29.60MHz (SW) mobile transmissions as we regularly trundled to and from work on a daily basis. Jeff & Yvonne Levi from the Hadleigh Market Shop loaned us a nice Transit Motorhome so that Steve.T could take "Buster" to Southend-on-Sea college where he sat his own C&G Radio Amateurs examination, it wasn't long before Buster legally joined in the daily radio net using his own radio amateurs callsign "G4OWP". or as Don Scott reminded us "G4 Offshore Wireless Person".

Buster was also a very keen photographer taking pictures of all those who visited his house, a lot of the photographs and audio tapes on this website are from Busters own collection.

Sadly Buster is no longer with us, but his memory will stay in our hearts forever, his funeral at Southend-on-Sea was very well attended and included members from the Radio Kaleidoscope team.      

                                                        RIP old friend
Stations & Other Involvements:
Radio Caroline
Radio Kaleidoscope
Pictures & Documents: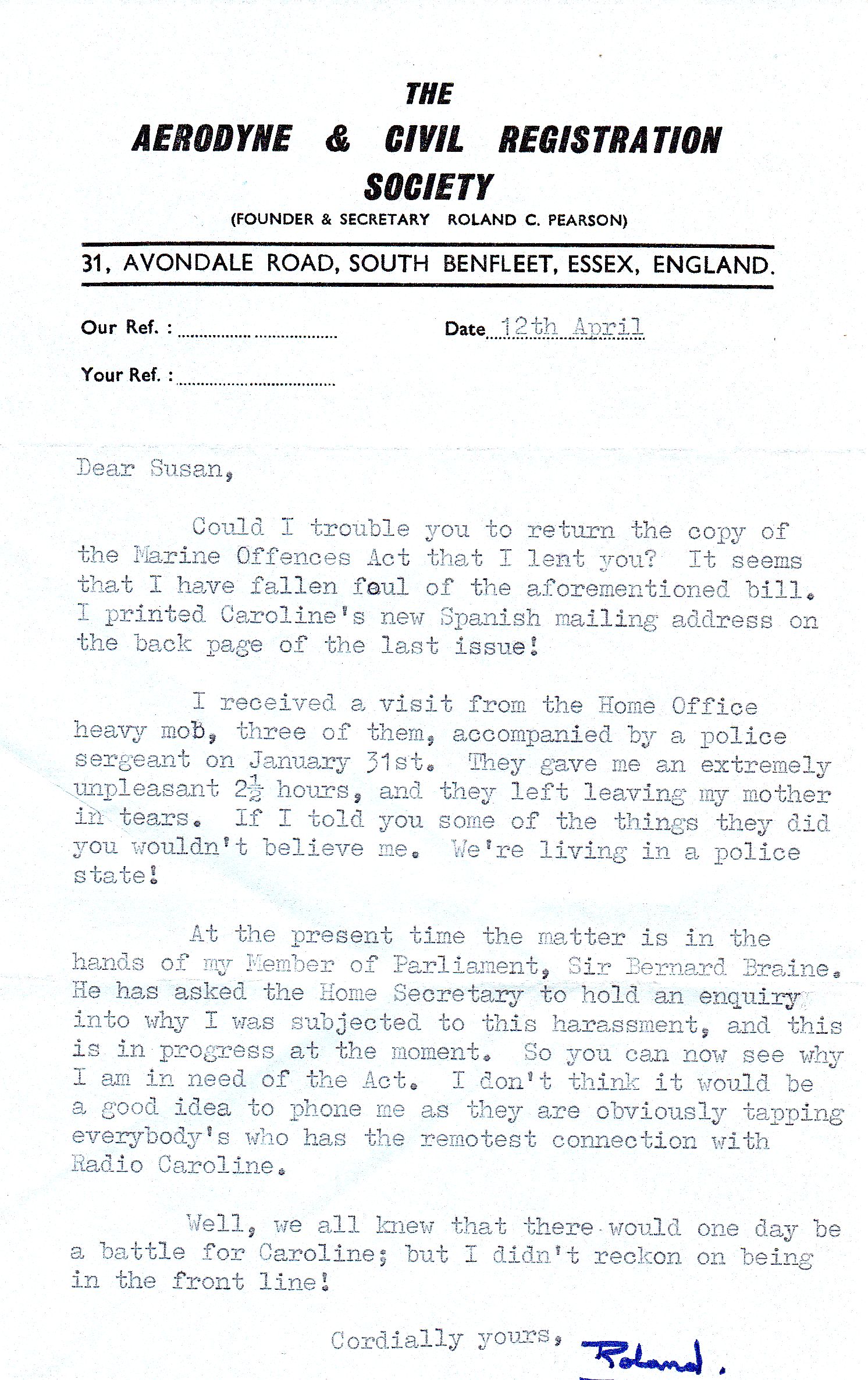 Buster's doctor was Doug Acres from Thundersley lodge next to the Runnymede council offices.
Steve Taylor and Doug's daughter Jane Acres used to go around together where Steve got to meet Doug on different occasions, Doug was always a happy person with a brilliant sense of humour.
Doug once mentioned that the two large heavy concrete and blue metal signs outside of the Benfleet council offices, saying "RESERVED for COUNCIL" would look much better outside the gates of Woodside cemetery, funnily enough a few days later there they were !!
On another occasion Chris McCarthy's old Land Rover developed an electrical fault in Doug's large driveway generating a lot of smoke. Doug came running out of his house shouting "Dont burn my house down just leave that rubbish (The Car) on the dump over there pointing to the bonfire at the end of his garden. The situation suddenly turned from panic into one of laughter.
In true form Chris quickly repaired the damaged wires and we all drove off again with the Shortwave transmitter Canadian WS No 43 still safely stowed in rear of the Land Rover.