DJ – Larry Tremaine "The Geater"
Audio:  
Years of involvement:  1970 – 1971
Alias:  The Geater with the Heater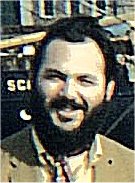 Home Location:
Types of involvement:  DJ
Comment / History:
  "The Geater with the Heater", provided shows to Radio Kaleidoscope in the early 70's via Busters house at South Benfleet in Essex, the pre-recorded shows were supplied on 7″ tape reels. At first these tapes were presumed to be from the Emperor Rosko using a different alias as Radio-K had often re-broadcast various ROSKO shows.

In 2014 after many years locked away in an attic the truth can now be revealed. Hand written notes attached to one of the old spools, shows that Buster had copied/converted the original open reel taped shows to make them compatible with the old mono tape recorders used by Radio K, he had also edited out Geater adverts for an unknown Post Box address in Holland.

Don Scott had earlier confirmed that some of Busters tapes  had ended up with Radio Caroline DJ "Keith King"  during the late 80's or early 90's, we contacted Keith again in 2015 who provided us with an MP3 file of the original show(s), unfortunately Keith was not able to confirm who had created the show(s) but he did suggested that it was Larry Tremaine.  Sadly Larry had passed away a year earlier in 2014 and the shows could not be formally verified. It definitely was not Jerry Blavat who also presented Radio programs in the USA using the same alias.

Around 14 August 2018 we were contacted by two very close friends of Larry Tremaine, one of whom is still working in radio. We sent some audio copies of the shows to them and they both say it has to be Larry.

The Emperor Rosko has also listened to the show(s) and  confirmed that it was not himself but probably is the work of Larry Tremaine.

Knowing that Buster had some very strong connections with Radio NorthSea International (RNI) he would have had a direct connection to Larry Tremaine along with other RNI  personnel including DJ Andy Archer,  DJ Robin Banks and the stations owners Erwin Meister and  Edwin Bollier.

When a DJ posted a taped show to Busters house, Buster would meticulously provide Radio-K with all the details including the date of arrival etc. We now believe that these tapes were hand delivered to Buster at his house in South Benfleet either by Larry himself or by another visiting member from RNI.
Stations & Other Involvements:  RNI
Pictures & Documents: