DJ – Pam Bird "Kathy Jeanetta", "Rona Dene"
Audio: 1969 DJ Kathy Jeanetta age 17yrs
Alias: Kathy Jeanetta
Years of involvement: 1968-1972
Home Location: South Benfleet, Essex
Types of involvement: DJ
Comment / History:- 
 Kathy was the first and only female DJ on Radio kaleidoscope during the 60's. At the age of 17 Kathy's shows and wide cross section of music appealed to a whole range of audiences. Kathy provided her pre-recorded shows anonymously through Buster to the  Radio Kaleidoscope team.
Security measures to protect the stations DJ identities were so good in the early years that Kathy and other Radio Kaleidoscope team members walked passed each other for over 25 years despite frequenting the exact same venues!!
Steve T & Kathy finally met again after 44 years, the rendezvous occurred at George Osborne's place in the Old town at Leigh-on-sea, 28-July-2014. The same day the Ross Revenge (Radio Caroline) sailed passed en-route to an unknown destination.
Welcome back Kathy….
Kathy has also worked on :-
Southend Hospital Radio – "Kathy Jeanetta"
Radio Kaleidoscope – "Kathy Jeanetta"
Radio Recovery – Hospital Radio – "Rona Dene"
Southend Hospital – Chaplaincy Team
Monitor Magazine – (Busters Radio Mag)
Scroll down for more:-  ↓
Below are extracts of Pam Birds FRA article published in the Hans Knot's radio report Oct 2018
THE ELECTION CAMPAIGN OF 1970 by Pam J. Bird Gaines
Hans, – you ask for memories of the FRA campaign leaflet against the jamming of RNI – well, where do I start? I found my 1968, 1969 and 1970 diaries, handwritten as a teenager, which recounted all the happenings at 239. At the age of 65, I need a magnifying glass to read them!
First, some background, I should explain that I had been involved with the work of the FRA since I joined on Friday 9th August 1968 – the second week of the school holidays. I lived locally, (Benfleet is about four miles from Rayleigh). I was fifteen, and one of my first jobs at the FRA (or 239, as we came to call it) was sending an information pack and FRA joining forms, to all the members of the Radio London Club, which had closed down the previous August. Radio London had sent all their membership forms to us. I will never forget being ushered into a room by June Pearl to be greeted by stacks of blue A4 sheets which had been sorted loosely into alphabetical order around the walls.
Some of the stacks were waist high. I averaged three days a week during the school holidays, and met many people my own age and a few years older, many of whom were to become lifelong friends. Spangles Muldoon dropped by during those weeks, and we also leafletted at a football match in Leytonstone, London. We finished the Radio London job by the time I went back to school the second week of September. After that, we started sending packs to the Broadside membership, and I settled into a pattern of working at the FRA weekends, except for half terms when I was there at least three times during the week as well! At the end of the year I was given a receipt book, and could enroll members myself
I was introduced to Buster Pearson – on the 30th October 1968 my diary states – and started doing tapes for Radio Recovery, the Hospital Radio Service he ran, and also for Radio Kaleidoscope, a land-based venture started by Tony Mendoza and Steve Taylor in 1967 (not to be confused with its later incarnation – when we packed up in 1972, Pat Edison restarted it in London). Buster ran an excellent studio, and became the hub for radio activities. All of this is archived at www.bookamook.com/kaleidoscope and on our site there is a link to Pat Edison's separate archive for the later Kaleidoscope. The first Radio Kaleidoscope also has a Facebook page. Radio Kaleidoscope was on all over Christmas 1968.
By early 1969 I was working on Town Analysis at the FRA to analyse the geographical spread of members, so I added statistics to my skill set. It is a wonder I ever got any qualifications from school, I was at 239 so much – but in a way it was good work experience, before the concept was invented. I attended an independent business college, Clarks College in Southend, and my working life was destined to be office based. The FRA committee meetings were quite a daunting thing for a youngster like me. I was allowed to sit in on some of them. I remember meeting Sir Ian Mactaggart at the January 1969 one, and being paralysed with fear when I raised my hand to leave the room for a 'comfort trip' much to the amusement of my peers.
Most of the Committee were in their twenties and thirties, while I was fifteen! There was Geoffrey Pearl, who was 32, and ran the FRA with his wife June, (Administrative Secretary) who was also late twenties/early thirties in 1968. Most of the crowd at 239 averaged some six or seven years older than me.
The Committee were: Mike Tickner, (General Secretary), Margaret Stock, (Treasurer), Martin Baird, (Sound Advertising). Bob Craig was the Branch Coordinator, and a couple of years down the track I was to cross Europe on a fortnight's 'radio tour' in his red Ford Transit van with other committee members – but that is another story. Then there was Tim Davies (Research Officer), Alex McKenna (Publicity Officer), Roy Brooker (Literature Services), Alan Purnell (Graphic Designer), Tony Young (Features Editor, Sound Magazine). Last but not least, there was Lynn Strang (Membership Secretary) who worked like a Trojan, and who I saw for lunch only last week. A very dear friend. Within a year, I was to be on the Clerical Sub-Committee together with Jackie Fright, Tony Barber, Colin Walker and Ken Bennett.
The icing on the cake was when the DJs dropped in, Andy Archer and Stevi Merike among them. The late Paul Harris, the author was a frequent visitor. Throughout 1969, I fell into the pattern of working at the FRA two or three nights week and at the weekends, because I was studying for my 'O' Levels, RSAs, LCCs and Pitmans. It was a sociable way of life, and they were fun times. The visitors were legion at the weekends, and I met some lovely people. I know there were acrimonious splits and politicking around the FRA, but I can only speak as I find. Geoff and June were very good to me. June, in particular, often looked absolutely exhausted. They lived a very frugal lifestyle, and for dear June, it must have been like running a cross between a Press Office, a Drop-in Centre and a Madhouse at times!
The Clerical Team worked on writing to the Broadside membership in the early months of 1969. I always diarised when we changed jobs. My diary notes in February that Lynn and I toured the local post boxes on bikes, we had so many letters to post, we didn't want to fill the local ones up entirely and upset the neighbours! Martin Rosen (CIB) and Fred Hassler came to February's Committee Meeting. Sometimes after intense meetings or work sessions, we used to let off steam at 239 with massive fights which ranged all over the ground floor using anything to hand, usually paperclips, dish cloths, and Lynn's Gonks ( collection of furry animals).
After Easter, the Clerical Team worked on setting up an alphabetical index card system – and typing stencils featured quite highly -all riveting stuff. The mundane, but necessary nuts and bolts of a growing organisation. Lynn was a whizz on the Addressograph, which made a noise like a train.
In May 1969, Klaas Vaak and Stevi Merike visited. I was working on shareholders' envelopes (whatever they were – diary doesn't elucidate). In early September, there was talk of Ronan O'Rahilly starting a TV station, but no-one was very optimistic about it.
Saturday 24th January 1970's entry notes, 'news of a new station perhaps – 'Radio North Sea International'. Hope so'. By the second week of February RNI were doing test transmissions regularly. An entry about then notes 'a strong signal, playing Je t'aime – RNI. At last, free radio is back'. Younger readers must understand that, for us, losing the pirates was tantamount to losing the internet today. In mid-February, we had word that Andy Archer and Carl Mitchell were to join the ship. They were on RNI on 24th February. Full transmissions commenced on
Saturday 28th February 1970. They had a few engineering problems and were on and off in early March. Mark Wesley joined RNI on the 10th March and RNI was on the ITV news at ten on the 11th March.
At 239 we were working on the Associate Membership packs.
Friday 13th March I noted in my diary that 'RNI unlistenable due to bad morse' but the following day reads, 'RNI being jammed…why can't they leave us alone'.
Sunday 22nd March 1970 there was an FRA Committee meeting. RNI was to move. By Tuesday, they were off Frinton, Essex and the signal was fantastic. They made the TV news again on 27th March. RNI were on intermittently in early April. By Tuesday
14th April, the FRA were handling an enormous amount of mail, and a tired diary entry reads, 'Some mail! Due to RNI's plugs'.
Wednesday 15th April 1970 – 'RNI jammed. Off air 16th, 17th'.
Thursday 16th April 1970 – 'At 239, sending out appeals for RNI like mad'.
Friday 17th April 1970 – 'At 239, working on RNI letters like a maniac. Short notice demo at Beeb tomorrow'.
It was becoming increasingly clear that we had to get Wilson's Government out.
Saturday 18th April 1970 – 'Demo outside Beeb about the jamming of RNI. Mike Tickner, Alex McKenna, Delphon Branch(?) there. About twenty of us marched down Oxford Street to Marble Arch. The Beeb had been jammed in the morning. I gave Noel Edmonds an Appeal leaflet.'
Monday 20th April 1970 – 'Andy Archer visited 239. He is staying with the Gilberts in Daws Heath Road. RNI testing.'
From late April to May, we worked flat out on the Appeal while trying to keep Associate Memberships up to date, which they were by 9th May. RNI was on/off, playing cat and mouse, changing frequency to VHF, and then to 244 metres.
Sunday 16th May 1970 – 'at 239; sub-committee meeting, then National Committee Meeting. Fifty-six people there! Including Tim Davies, Alan Purnell, Tony Young, Tony Rounthwaite, Bob Craig, Alex McKenna, Ed Moreno'.
Monday 18th May 1970 – 'RNI fantastic signal! Catching up with memberships'
By Thursday lunchtime – they were being jammed again – 'not too bad…listenable', my diary notes.
It was getting to be all hands on deck, and I increased my evenings. Near the end of the month, Choc (Cathy Hockley) came down, and the Clerical Team comprised six people, all working to get things up to date before the big push. Casual drop-ins were a BIG help – the amount of goodwill for the pirates never ceases to amaze me.
A General Election was announced for Thursday 18th June 1970.
On Thursday 4th June, six of us went to the Criterion pub on Southend seafront until it got dark, – and then we literally 'stuck up' town. There were anti-jamming posters everywhere, the new shopping centre, backstreets. Anywhere it was possible to stick a poster, we stuck it. The following week, I was at 239 every evening, and so were the rest of the team. A diary entry for Wednesday 10th June reads 'Great arrangements for Sunday going ahead, work going feverishly…loads of people here, ran out of chairs!'
By Thursday 11th June, my Team were working in the kitchen until gone 10pm. There was no room anywhere else.
On Friday 12th June, RNI came back as Caroline. There was a Committee Meeting, and 'loads of people in other rooms'.
Saturday 13th June, I was at 239 by 11.30am and got Associate Members up to date. There were 'visitors galore'. My friends and I repaired to The Lodge for a drink in the evening.
Sunday 14th June 1970. 'Caroline Rally. Went up with Colin Walker, Ken Bennett, Lynn Strang and Tony Barber. There at 2.30pm. Met up with the gang. Met Ronan, Simon Dee and George Lazenby. March to No. 10. Thousands there'.
Monday 15th June – 'at 239 in evening'
Tuesday 16th June – the six of us went out in two cars around Brentwood and Billericay, fly posting and handing out stickers and the anti-jamming leaflet.
Wednesday 17th June – went out in two cars around Rochford and Southend 'sticking' and handing out free RNI stickers and the anti-jamming leaflet.
Thursday 18th June 1970 Election Day. All we could do was wait. Five of us went round to Lyn Strang's house.
Friday 19th June 1970 – my diary reads, 'Cons in. Champagne at The Lodge with Lynn, Colin, Tony, Margaret etc.' and the rest, my friends, is history. Pam
What an excellent and interesting in depth story Pam, Amazing and thanks for sharing your memories with my readership.
Eor1
Extracts from:
Hans Knot International Radio Report Early Summer 2019.
We now go back to the year 1970 and I give space to another story filled with memories from Pam. J. Bird Gaines: Snapshot of three weeks in August 1970 I said I would write about the time we visited the stations, and a rainy weekend has offered me the opportunity to settle down and reminisce. This is taken from my 1970 diary, and I must excuse my excitable 17 year old self! All photos are all courtesy of Lyn Strang, as to date, we have been unable to trace Bob Craig and Graham Stephens.
[ADD PHOTO]
FRA Van from Jonathan Shirley
Four of the FRA committee members decided to travel to Europe for their summer holidays in August 1970. There was Bob Craig, who was the FRA Branch Coordinator. He came from Waterloosville, near Portsmouth, UK. Aged 26, was the 'sensible' one among us. He would drive us in his red Ford Transit van, which he used for running his mobile discotheque, 'Outtalimits' around Portsmouth. The van was kitted out with a sofa in the back for the holiday. Eat your heart out, 'elf and safety! I can't remember it having any windows other than in the cab, and back doors, as it was a working panel van. This is the same Ford Transit which headed up the RNI anti-jamming march and rally at Trafalgar Square on the 14th June 1970, and can be seen in some of the old cine footage. The FRA girls sat in the back, when we got tired of walking and handing out leaflets.
Along for the trip, was Bob's friend, Graham Stephens. He was around nineteen years old. He helped with the mobile disco, and was studying Marine Engineering at Rees Hall in Southsea, Hampshire, UK and also came to the FRA. Then there was Lyn Strang, the 20 year old FRA Membership Secretary, and me, Pam Bird, on the FRA Clerical Team Sub-Committee. I was the baby of the group, and would celebrate my 17th birthday in Holland. On the 8th August, we caught the midday ferry from Harwich and arrived at the Hoek van Holland around six o'clock in the evening. We drove to Amsterdam, and stayed on the Olympiaweg camp site. For the next three days, we went sightseeing, taking in Abcoude, Hilversum, Zandvoort, Scheveningen and Eindhoven. At Eindhoven, we visited the Evoluon exhibition. We crossed into Belgium, to Antwerp and stayed at a camp site outside Brussels. Evoluon Photo: Wikemedia Rijksdienst voor Cultureel Erfgoed Thea van den Heuvel On August 12th, after looking round Brussels, we made our way down to Luxembourg, which we reached by early evening, found a camp site and set up camp. I remember all the pine trees lining the road, they seemed to go on forever. We went to the Radio Luxembourg studios and were admitted. Kid Jensen bounded down the stairs, hand outstretched to greet us. We also met Tony Prince and Bob Stewart. They made us very welcome, and we stayed there until 10pm.
Kid Jensen Photo: Lyn Strang
The morning of August 13th saw us sightseeing and souvenir shopping around Luxembourg, and then we started the long haul back to Scheveningen to meet the tender bringing the boys off the ship (RNI). By midnight we had reached Rotterdam, and pulled into a lay-by to sleep. On Friday 14th August, at 10am, we reached Scheveningen, found the MEBO 1 and waited. At half past four, Lindsay Reid, Carl Mitchell and Larry Tremaine arrived at the harbor. They left on the tender at 5pm. We went and had supper. At 7.15pm, the tender returned with Andy Archer, Spangles Maldoon and Mark Wesley. Somehow, we all piled in the Transit van and took the DJs to the Grand Hotel. Alan West's girlfriend, Patti, came with us. I remember that I sat next to Spangles. We left the hotel just before ten, and stayed in Amsterdam for the night.
Michael Lindsay Photo: Lyn Strang
Saturday 15th August was my 17th birthday, which I spent on the camp site, sightseeing in Amsterdam, and going on a waterbus. The next day at four in the afternoon, we visited the Caroline ships at the Webster Dock. It was so sad seeing them there. Then we travelled towards Arnhem. On the 17th August, we visited the War Cemetery in Arnhem. It was a shock seeing all those white crosses. In the evening, we travelled to Hilversum and visited the studios of Radio Veronica. We met Rob Out and Lex Harding. I remember being impressed by the quality of the studios, and we came away with stickers. At 9pm we headed for Vlissingen (Flushing), and slept by the roadside. Next day, we looked for the Comet ship and found out she has been scrapped. Had a look around town, then returned to Olympiaweg camp site in Amsterdam, where we stayed until 21st August.
Friday 21st of August, we visited Den Haag, and were in Scheveningen by midday. We had lunch on the quay side, waiting for the tender to go out to RNI. We met the genial radio person, Hans Verbaan, of FRC Holland. At quarter to four, MEBO 1 was towed into the smaller harbour. Andy Archer was driven up in a van and Lyn and I ran off to find Bob and Graham. We all met up on the quay side around 4.15pm. Andy had a word with Larry Tremaine, and we were allowed on board the MEBO 1. Our passports were logged by the Captain. Supplies were loaded up. We set off at 5.30pm.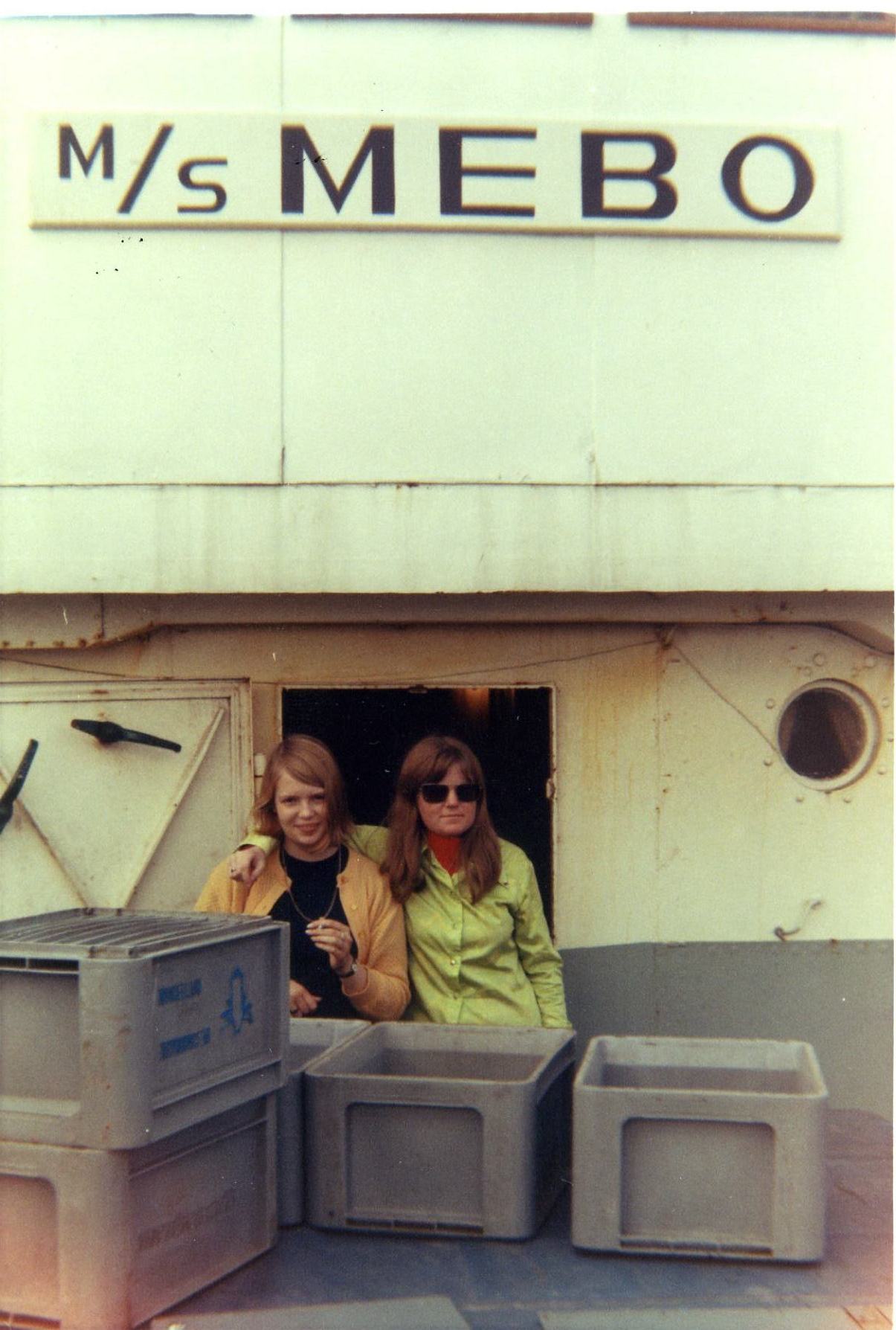 Lyn and Pam on the MEBO I
It was a lovely sea, and we reached MEBO 2 just after 6pm. The tender was lashed to the side of the radio ship and we went on in two parties. We went on second, and it was quite a jump to the ship. Andy helped us on. The ship is really beautiful – we were shown round the ship – the studios and TV room, showers etc. Altogether, we were on board well over an hour. Carl and Lindsay were with us mainly. We met Robb Eden, who used to go to 239 (the FRA). The supplies loaded on to the radio ship were of very high quality. After we had left the ship (what a jump!) Axel gave Lyn and I some Coca Cola and some cake. Alan West and Dave Gregory came off on our tender. We left the MEBO 2 at 8.10pm. Andy, Carl and the rest waved from the deck. The MEBO 2 looked very alone, and very beautiful as we left her behind us. She was lit up as we left her – the colours show up well. Larry Tremaine was a laugh from start to finish, he's got a wonderful sense of humour. We got back to the harbor at 9pm, then the little tug 'Trip' transferred us from the tender to the dock. A Customs Officer stood amazed on the harbor, as we all piled off the tug, it was quite funny. Detlef and friends were given a lift by us. We said goodbye to Hans Verbaan at the quay side. Then we drove back to Scheveningen town. An unforgettable adventure, – we had finally made it out to the MEBO! Robb Eden said he would play us a record when they come back on medium wave round about Tuesday.' Thanks a lot Pam for sharing your memories, which you kept on paper all those decades. Marvelous and also thanks to Lyn Strang for providing the photos with your story. Anyone who want to bring in memories and more, feel free to write to HKnot@home.nl
 DJ's Michael Lindsay, Larry Tremaine, Carl Mitchell, Tracy Deram, Kathy Jeanetta, Axel together with some of the RNI jocks at the Scheveningen quay side Holland. (Courtesy of Lynn Strang)
BELOW : –  BBC Essex – Peter Holmes birthday dedication to Pam 14Aug16